"

Gifted songwriters, their songs are heartfelt, catchy, humorous, and somehow old-timey and brand new all at the same time."
— For the Country Record
PRAISE FOR THE SAPSUCKERS 
"Enchanting harmonies… note-perfect old-time fiddle playing… To be devoured by those who love old-time acoustic country music." --fROOTS Magazine, John Atkins 
  
"Talented musicians and vocalists… impressive… a unique, enjoyable take on old-time music." —Bluegrass Today 
  
"Grossman and Hart are pretty much a match made in heaven." —American Roots UK 
  
"Clearly the Yellow-Bellied Sapsuckers have got it all, the songs, the voices and great pickers... Wonderful." —Country Music People (UK) 
  
"Fine old-time fiddle tunes with tight harmonies." —Northern Sky Magazine 
  
"Beautiful harmonies and instrumentation… The whole album is an absolute doozy." —Bearly Ramblin 
  
"A warm blend of Appalachian music and Midwestern folk roots." —Hymie's Vintage Records 
  
"Clever, charming, perfectly executed, and last but not least, really funny." —Klutch Chronicle 
  
"Their prowess on fiddle and guitar, with their strong vocals, is the bedrock of the duo's success and charm." —Lonesome Highway 
  
"One of five Americana bands you have to hear to believe… a hit Americana album."  —Ear to the Ground Music 
  
"…evokes an unchanging country idyll. The light touch doesn't falter…" —Whisperin' and Hollerin' 
  
"No matter the tempo of the song, audience members were dancing." —Concert review by Nina Matti on WNUR radio, Chicago 
  
-Best Albums of 2015 
American Roots UK 
-Top 10 Albums of 2015 
KDHX, St Louis Radio 
-Top 20 Singles of 2015 
Ear to the Ground Music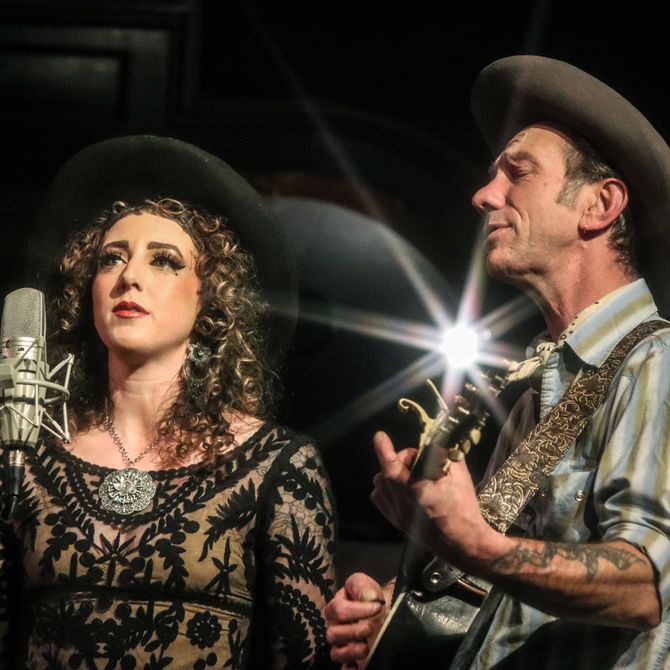 Meet the Sapsuckers
Official Showcase Artists, SXSW ~ Nominated Best Country Band, Wisconsin Area Music Industry Assn.
The Sapsuckers write and perform original country music that blends humor, heartache, and honkytonk.
Featuring lead vocalist Nikki Grossman (fiddle, vocals, guitar) and anchored in the songwriting team of Grossman and Joe Hart (guitar, vocals, mandolin), the band's style ranges from hillbilly roots to Nashville pop, while their engaging performance style has earned a growing fanbase in the Midwest and beyond.
Formed as an acoustic duo in 2013, the couple began performing with a backing band in 2019, and is currently booking shows in both configurations.
Their fourth studio album will be released in 2022. Recorded at Native Sound Recordings in Saint Louis and co-produced by Ryan Koenig (Pokey La Farge, Rum Drum Ramblers), the new record features the expanded lineup of the band.
The duo has recorded three albums: "Don't Think About Tomorrow Tonight" (2018) was launched at an official SXSW showcase, where they earned a standing ovation, as well as numerous Midwest tour dates. The album was co-produced by John Wood (Richard and Linda Thompson, Cat Stevens, Incredible String Band). The Sapsucker's video for the song "Fools Were Made to be Broken" was premiered by Radio Heartland on Minnesota Public Radio, The Current. "Ocooch Mountain Home," (2015), received high praise from the likes of fROOTS, Bluegrass Today, and Country Music People UK. "Speaking of Music" (2013) captures the old-timey roots of the band.
Grossman and Hart live with their daughter on a rural homestead in Southwestern Wisconsin. Frequently on the road, they work with steady bands based in St. Louis and Minneapolis.
RADIO & WEB RADIO  
In-studio performance: Minnesota Public Radio, Radio Heartland/The Current, MN  
Video Premier: Minnesota Public Radio, Radio Heartland/The Current, MN  
Wisconsin Public Radio, Simply Folk  
WNUR, The Midnight Special, Chicago IL  
KUMD, Duluth, MN  
WTIP, Grand Marais, MN  
WNUR, Chicago, IL  
White Wall Sessions, Sioux Falls, SD  
WDRT, Viroqua, WI  
Iowa Public Radio, Iowa City, IA  
NEWSPAPERS & TV  
Wisconsin Public Television, 30-Minute Music Hour  
"Sapsuckers don't mind being pigeonholed," in the La Crosse Tribune  
"Learn how to yodel, it's easy," in the MPLS Star Tribune Tribune  
"Interview: Yellow-Bellied Sapsuckers at Mile of Music in CW14  
"Sapsuckers Ready for Takeoff" in the La Crosse Tribune  
"Hot Country for the Cold Snap" in The Country Today  
"Meet the Yellow-Bellied Sapsuckers" in Northern Wilds  
"Boisterous Band" in Paducah Sun (pg 6)